Welcome To JC Economics Education Centre
---
JC Economics Education Centre provides quality
Econs tuition
to students at the Junior College level. Established in 2012, the teaching methodology utilised at JC Economics Education Centre has proven to be extremely effective in aiding our students to excel at the GCE A level examinations.
Dear students and parents,

Hi there! I am Mr Anthony Fok, founder and principal tutor of JC Economics Education Centre.

I have always knew I wanted to be an educator, to teach students to see the vitality in themselves. I would not trade this job for any other in the world. Armed with nothing but this passion, I set up JC Economics Education Centre hoping to reach out to students who struggle in Economics.

Today, I am proud of every student I have had the chance to mentor and look forward to teaching more.

"Who dares to teach must never cease to learn." I believe that a good tutor should not only be well versed in the subject. He or she must also understand pedagogy and have a wide range of teaching strategies.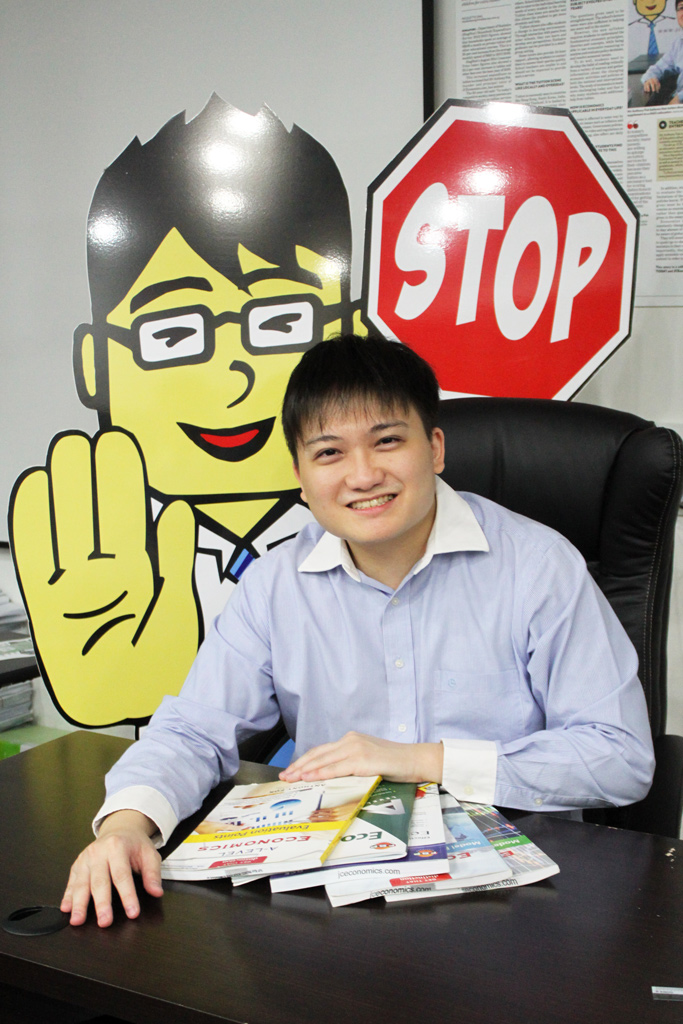 Based on numerous years of teaching experience, Mr Anthony Fok understands. Students nowadays face many problems, including hectic schedules and bullet-train lessons, leaving them breathless and unable to catch up in their school work, let alone excel in examinations.

These problems are exactly what JC Economics Education Centre seek to address. At JC Economics Education Centre, every lesson is designed to meet the specific needs of each and every individual of varying abilities in Economics.

Students who are weak conceptually will find our lessons useful as concepts are continually being reinforced and refreshed. Students who require a bit of a challenge will also find themselves in good stead with examination-styled questions that stretches their abilities. We seek to build confidence in our students to improve in their Economics over time, steadily but surely.

Equipped with a significant amount of resources and experience accumulated over the years, JC Economics Education Centre prides itself as a tuition centre that provides unmatched Economics tuition services in Singapore.
VISION
---

---
For our students to stand head and shoulders above.
MISSION
---

---
To teach by example, awaken joy in learning Economics and assist discovery.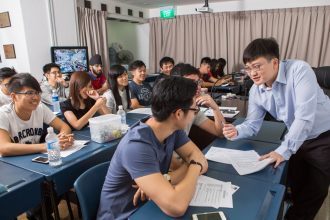 "Example is not the main thing in influencing others. It is the only thing."

---
Teaching by example occurs at two levels in JC Economics Education Centre

---
On a more literal level, students learn by doing through practices that stimulate actual tests and examinations, helping them to become familiar with what they are likely to encounter

---
On a less literal level, Mr Anthony Fok serves as a role model, inspiring students to become as passionate in Economics as him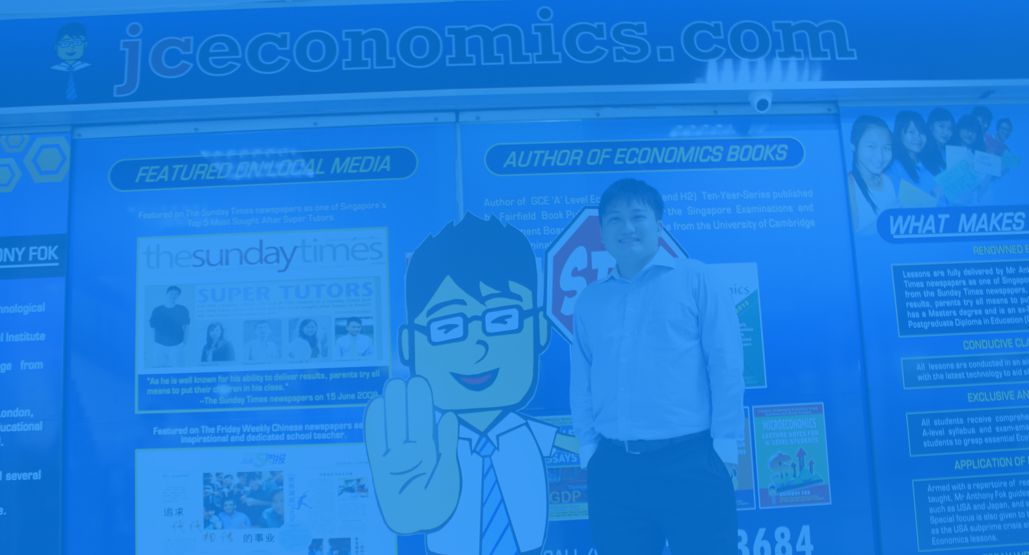 TO AWAKEN JOY IN LEARNING ECONOMICS
"Develop a passion for learning. If you do, you will never cease to grow."
"Develop a passion for learning. If you do, you will never cease to grow."
"The art of teaching is the art of discovery. "
Many students find learning a chore rather than an enriching journey
JC Economics Education Centre helps students to find learning Economics enjoyable again, through anecdotes that makes Ecoonomics relevant to their lives, that they may discover for themselves their passion in Economics
JC Economics Education Centre seeks to provide a conducive environment for students to discover for themselves that there are no limits to what they can achieve
The centre and programme is carefully designed from the perspective of a student. Students have been consulted on what they think makes an ideal and conducive study environment
Students are taught the values of independent exploration and intellectual curiosity, that they may learn even outside of the classroom

---
Branches
Bukit Timah Branch
Bukit Timah Shopping Centre
170 Upper Bukit Timah Road
#B2-01
(588179)
Next to Beauty World MRT


Whatsapp / SMS: 8251 3684
Tampines Branch
Block 201E Tampines Street 23
#02-106
(527201)
Near to Tampines JC


Whatsapp / SMS: 8251 3684
Bishan Branch
Block 513 Bishan Street 13
#01-500
(570513)
Next to Bishan MRT Station


Whatsapp / SMS: 8251 3684